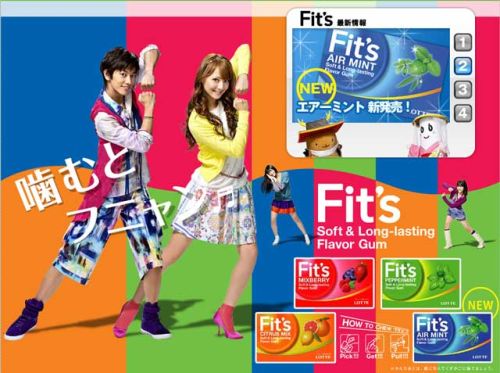 What's Fit's

Fit's a popular, as written on the banner, a Soft & Long-Lasting Flavor Gum by LOTTE

OFFICIAL WEBSITE

What's Fit's dance

Fit's dance is a dance promoted in Fit's TV commercial.
This

is the 1st season of the TV commercial


And this

is the 2nd season of the TV commercial


So, what do I mean by going Fit's dance

Fit's has been holding a dancing contest last season via YouTube and whoever got the most views won the GRAND prize





I was unaware when they were doing this and totally missed the whole FUN


However, they are making it happening again for 2nd season Fit's Dance



What contestants need to do is,



Refer to official site

Steps to application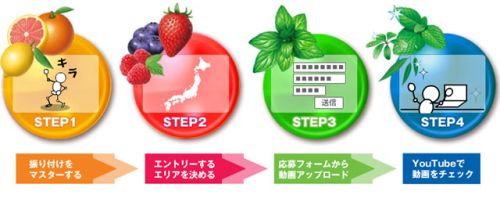 Since, everything is in Japanese, and if someone reading this happened to have some interest in participating, I might be a help~


Follow following STEPS


STEP

Master the dance from the Fit's TV commercial.
2nd Season Fit's Dance TUTORIAL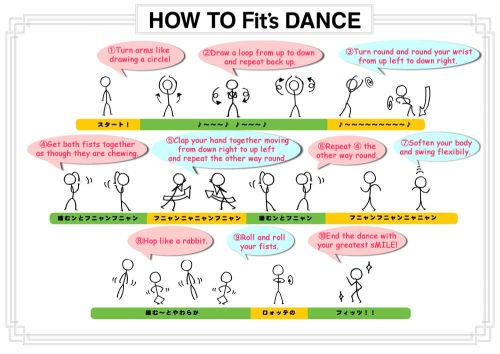 Click to enlarge
See TUTORIAL VIDEO


STEP

Select the area that you are currently living in.
If you are in Japan, select the state you are residing. For those who are outside Japan, there's only 1 option which is "Overseas".
Every area has a different opening of the song. Download it

Then, use the song, dance, and edit your video.



However, there's a new rule for Season 2 which did not applied to Season 1 before.
Contestants need to dance somewhere which could represent the area you've chosen for your video.
Which means, I guess you can only dance outside somewhere but not inside your house.
Overseas contestants would be easier coz anywhere outside Japan is overseas.


STEP

Fill up the application form and upload your video.
Fill in

Nickname: harupi

Video Title: Fit's Dance to the MAX (get a title with impact

)
Select area: 海外 (Overseas)
Email address: haruka@harupi.com
Check the Terms & Conditions box and CLICK

Then upload your video and CLICK




STEP

Now you can check uploaded video on YouTube

Applying date from 29 Sept 2009 ~ 2 Nov 2009


(Apply earlier benefits to gain more views

)
Publishing date will be on the 13 Oct 2009 ~ 16 Nov 2009


Anyone from all over the world can PARTICIPATE

as long as you have an internet access where you could upload your video to apply


You might think this is boring,


but you have to know,

the prizes are YUMMMY~~
















GRAND PRIZE


100 million yen (US$10,000~, RM37,000~) + LOTTE Fit's (365 packs)
2nd PRIZE


20 million yen (US$2,000~, RM7,400~) + LOTTE Fit's (365 packs)
3rd PRIZE


10 million yen (US$1,000~, RM3,700~) + LOTTE Fit's (365 packs)
Condolences PRIZE, 1 for each areas in Japan + 1 for overseas



5 million yen (US$500, RM1800~) + LOTTE Fit's (50 packs)
Absolutely Delicious





Coz I need



and I need





and I need


FUN

Wanna join





Practice by watching all the samples provided







My PICK-UPS




Just be CREATIVE

, SPORTING

and ACTIVE




Watch more samples.
Oh, you might want to know the winner for the last season




Season 1




Season 1




Season 1




Season 1




Season 1


Season 1

GRAND PRIZE
She was just 11 years old…

Season 1

2nd PRIZE
Even this got 2nd prize…she's not REAL


Season 1

3rd PRIZE
Name Kozue, she is active in the dancing world on the web…
as she has gained herself with popularity on Nico Nico Video (Japan) and YouTube~


a rival…

I never really had any dancing experience…and I'm going to compete with these people…

Anyway, it's just for fun

(persuading myself..

)
I've already started practicing






…

…

…

think i'm clumsy for dancing…

But I'll still try my best




Hoping from your SUPPORT








Just click to view when I'm DONE


I promised to be worth-while



Comments