I just got a new registered email



.
.
.
♥♥♥♥♥ @facebook.com
.
.
.
Very excited coz it was from Facebook


Anyone got it yet?

(my username)
I'm not sure but every time when Facebook has an update, not everyone will get the update all at one time. Some lucky one will get it first~

I don't know whether I am consider the faster one, but I guess if none of my friend was posting or tweeting that they have a new email of @facebook.com, then I'm pretty sure I might be the first few among my friends on my list..


I searched on the net about this new function and found out that this function was actually started since last year November 2010 and before this, it was not open to public.
In case if anyone would like to get a @facebook.com, you have to "request an invitation" from Facebook.
Try the following steps


Login to your Facebook account.


Go to this link → http://www.facebook.com/about/messages/


You'll come to this page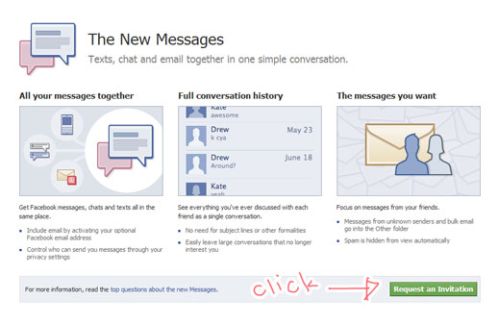 Click "Request an Invitation"


You're DONE


Okay, I don't know what Facebook is thinking obviously.. since this function is open for public now, anyone will get this update anytime without doing anything. Just the matter of sooner or later.
Thought if you complete the above steps, you might get it faster..


or maybe not..


@facebook.com email address will match your Facebook ID username

That's cool

Facebook URL address: www.facebook.com/ ♥♥♥♥♥
Facebook email address: ♥♥♥♥♥@facebook.com
Go get one if you haven't got a username here.
Anyway, Webmail and Facebook-mail is still a different thing.
Facebook-mail can be an easy going emailing-tool for friends and so, an access that is related to Facebook where in these days, not many or probably no-one using the internet has no Facebook.
So excited for having a @facebook.com, but for an official email, Gmail is the best!

I love GMAIL




no email host better than gmail~




This post is just a thought of sharing

Comments